What is Responsive design?
With responsive website design, your website will adapt and deliver the best experience to users, whether they're using desktop, laptop, tablet, or smartphone. For that to happen, your website needs a responsive design. Sometimes we call it fluid design because it's like a drop on a lotus leaf, it justs orients itself as per your demand.Gd3 Technology researched well on this topic & can make a solution for you which is a charm to use.
the responsive

FORM FACTORS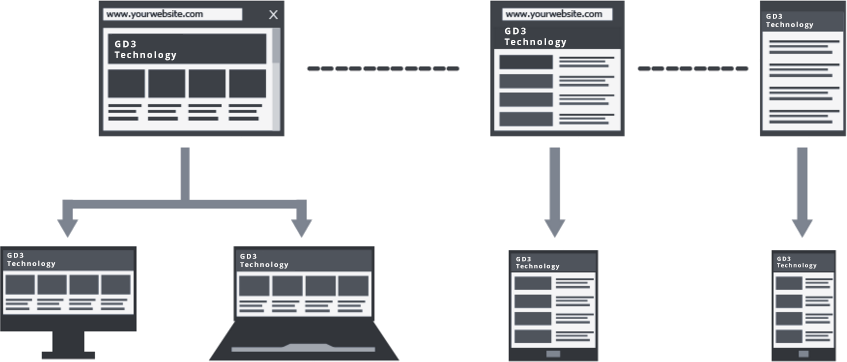 Some key benefits of having a responsive website!

Device Independent
Today there are many different screen sizes across phones, tablets, "phablets", desktops, game consoles, TVs, and wearable. Responsive design orient to any screen size, today or in the future. This is the time to update your Website and make it to mobile-friendly.

Great User Experience
We provide all of the website design services you require. Our Users feel happy when they see the designs getting adjusted, be it portrait or landscape, and that too at a fast speed

Easy Maintenance
With responsive design, you only change in one place, which applies for all. Fix bugs at one place it applies to all.And its very easy to handle .

Higher SEO & Conversion Rate
We are providing the best SEO Services to deliver a modern SEO strategy designed to our customers. If a design is responsive, the users visit the site often and stay for long. Also, link building, content change, keyword updating once done applies for mobile too.

Increase Sales
We creat website's design that should focus on the needs of your target . With responsive design, not only site visitors increase, mobile usage increases and the users like it, consequently they are prone to place order.

Save Time & Cost
Any website desires administration for modifications, fixes etc. and with responsive web design, you only get laid in one place. No redundant work, saving you each time & money.